Semester Paper written for Williams College Graduate Program in the History of Art, December 2005
One of the most difficult challenges posed by Joseph Beuys's art is that often we are unsure of how to approach his objects.  Installations such as Das Kapital Raum, multiples such as Filzanzug, and performances such as Celtic (Kinloch Rannoch) Scottish Symphony put even the most conversant in the visual arts ill at ease, at first.  No amount of instinct or knowledge can reveal exactly where meaning lies.  Is it buried within the object itself?  Should we use empirical evidence to stake our claims of "truth"?  Or, is the art conceptual?  Does its "true" meaning lie far beyond its physical existence in the many interpretations expounded by critics, historians, and Beuys himself?
Some critics believe that Beuys does not ever manage to convey meaning in his art.  The most significant example of a critical rejection of Beuys was by Benjamin Buchloh in his 1980 review in Artforum, "Beuys: The Twilight of the Idol."[1] In his critique, Buchloh alludes to Beuys's reliance on the tradition of allegory and condemns Beuys for employing such an outdated and ineffective literary devise.  However, I wish to argue that Joseph Beuys's use of allegory was, in fact, liberating and progressive, and must be precisely understood in order to see how he intended for others to make sense of his art.
To help clarify how Beuys employs an allegorical mode of expression, I will use the antinomies of the allegorical described by Walter Benjamin in The Origin of German Tragic Drama as a framework within which I will unravel Beuys's aesthetic theory.  The antinomies laid out by Benjamin are mutually logical, necessary, and completely contradictory results of a series of dialectics, each one containing two opposing forces that ebb and flow into one another forcing a constantly repeated reversal of extremes.[2] According to Benjamin, the conundrum created by the dialectic within allegory is fundamental to the allegorical aesthetic, which in turn is composed if the plastics of allegory, which I will redefine for the purposes of this paper as artistic medium; the form of allegory, or its peculiar construction; and the content of allegory, or its subject matter.  In this paper, I will move through each set of antinomies and show how Beuys consciously used the contradictions that stem from allegory.
Even though I will be using Benjamin to explain Beuys, I would like to clarify that I am not trying to prove a historical connection between Benjamin and Beuys.  As far as I know, no proof exists as to whether Beuys ever read or used Benjamin's theories.  However, Benjamin's nuanced understanding of allegory provides a convenient language to start to describe how Beuys is using certain principles fundamental to the nature of allegory in the modern and post-modern era.  Benjamin's antinomies of the allegorical reveal that it was precisely allegory that allowed Beuys to expand his concept of sculpture to comprise found objects, performance, installation, music, legends, spirituality, and even economics.  A myriad of interconnected ideas also resulted from Beuys's allegorical expression.  These ideas piled layers upon layer of meaning on his art creating what Benjamin called the "allegorical sublime."
Nevertheless, although Beuys in some ways embraces the antnomies of the allegorical, he uses the contradictions inherent in allegory for his own ambition, which was to spark creativity within individuals as well as their society.  Therefore, Beuys uses allegory and, in the process, dissolves it in the paradox of creation. So that, in accord with the artist's intentions, viewers must see through the overdetermined meanings attached to Beuys's objects in order to perceive the sculpture more purely.
Before we delve completely into Benjaminian theory and its relation to Beuysian aesthetics, a basic definition of allegory will help ground our understanding of its history and interpretations.  The word allegory comes from the Greek word αλλoς, or allos, meaning "other" and αγoρευειv, or agoreuein, meaning "to speak in public."  A simple description of allegory based on this etymology is "to speak otherwise than one seems to speak."  That is to say that in allegory there are two distinct levels on which meaning is being conveyed, the level on which one is seeming to speak and the level which is being alluded to by that speech.  The meaning to which an author is alluding requires an interpretive effort on the part of the listener, as it is not necessarily or immediately revealed.  For this reason, allegory is often associated with criticism and exegesis, which seek to expound meanings beyond what is evident.  Because allegory can connect what is evident to our senses to an idea that can never take physical form, it is useful for connecting images or objects to ideas and ideals whose ends would be served by the validation and emperical reality of physical evidence, such as liberty, freedom, and justice.
A history of the modern use and interpretation of allegory is given by Walter Benjamin in his essay The Origin of German Tragic Drama, composed in 1924-25.  After surveying the history of allegory, Benjamin concludes that it became more than just an illustrative technique during its apotheosis in the Baroque.  He shows that allegory became a "form of expression, just as speech is expression, and indeed, just as writing is."[3] As John McCole determines in Walter Benjamin and the Antinomies of Tradition, Benjamin also finds that allegorical expression is governed by the "fundamental law" of the antinomies of the allegorical.[4]
Benjamin situates his definition of allegory specifically in the historical contrast between classicism and the Baroque.  As McCole describes,  Benjamin "repeatedly contrasted the 'dialectical' rhythm of allegory with the balanced, harmonious inwardness of classical forms."[5] Thus, the historical contrast between the Baroque and the classical is echoed in the functional contrast between allegory and the symbol.  Walter Benjamin observes that classicism adored the brevity of the symbol, which is instantaneously linked it with its meaning.[6] Allegory, on the other hand, is determined to be less forthcoming.  It indulges the reader in a suspension of time, a step into the void that separates the layers of meaning.  Benjamin uses the metaphor of the woods versus an abyss to contrast the mystery of the symbolic that absorbs meaning into its speech with the distance of allegory that separates visual being from meaning:
The measure of time for the experience of the symbol is the mystical instant in which the symbol assumes the meaning into its hidden and, if one might say so, wooded interior.  On the other hand, allegory is not free from a corresponding dialectic, and the contemplative calm with which it immerses itself into the depths which separate visual being from meaning, has none of the disinterested self-sufficiency which is present in the apparently related intension of the sign.[7]
Benjamin discovers that it was because classicism viewed the symbolic as beautiful and consequently divine that the Romantics were then able to distort allegory into the symbolic's twisted and demonic counterpart.  Allegory was thereby "adapted so as to provide the dark background against which the bright world of the symbolic might stand out."[8]
Since Benjamin calls for a rejection of the romantic distortion of allegory and a return to the Baroque understanding, he implies an affinity between his contemporary, modernist point of view and that of the Baroque.[9] However, in "The Allegorical Impulse: Toward a Theory of Postmodernism," Craig Owens recasts Modernism as upholding a classical unity and Post-modernism as reveling in allegory's chaotic proliferation of meaning.[10] As Owens says, Post-modernism "is to narrate its own contingency, insufficiency, lack of transcendance. . . It's deconstructive thrust is aimed . . . against the symbolic, totalizing impulse which characterizes modernist art."[11] Where Joseph Beuys might fall in relation to the allegorical post-modern is an issue that will be take up in the conclusion of this paper.  However, it was Owens's call to recognize the presence of allegory in art that partially inspired my paper.
Benjamin Buchloh, who wrote "Beuys: The Twilight of the Idol" in 1980, the same year that Owens wrote "The Allegorical Impulse," did not hold allegory in such high opinion.[12] As was previously mentioned, he alludes to allegory in his criticism of Beuys.  He says of the sculptures in the 1979 Beuys retrospective at the Guggenheim Museum that:
Their opulent nebulousness of meaning and their adherence to a conventional understanding of meaning, makes the visual experience of Beuys's work profoundly dissatisfying.  His work does not initiate cognitive changes, but reaffirms a conservative position of literary belief systems.[13]
I believe that Buchloh is intimating that Beuys is attempting to create allegorical meaning by calling his artmaking "literary," "conventional," and "opulent."  In fact, it seems here that Buchloh is perpetuating the very "desolation of modern art criticism" with its romantic distortions that Benjamin was railing against.[14] As Benjamin bitterly complains, "Even great artists and exceptional theoreticians, such as Yeats, still assume that allegory is a conventional relationship between an illustrative image and its abstract meaning."[15]
Inspired by Benjamin's and Owens's call to arms, I will endeavor to reveal the role of allegory in the art of Joseph Beuys.  I will move piece by piece through each set of Benjamin's antinomies of the allegorical and observe how they are adopted and adapted by Beuys's aesthetics.  Finally, I will use this thorough understanding of Beuys's use of allegory to respond to Buchloh's main criticism that Beuys is ahistorical in his creation of meaning.
As Walter Benjamin describes in the chapter "Allegory and Trauerspiel" in The Origin of German Tragic Drama, the antinomies of the allegorical "take plastic form in the conflict between the cold, facile technique and the eruptive expression of allegorical interpretation."[16] What Benjamin means by "plastic" here is the writing itself, the act of translating spoken language into a written form of communication.  He acknowledges that written language acts as what I would define as a set of Peircian symbols that are dependant on codified conventions in order to fulfil their communicative function.  However, the very goal of communication is to clearly convey ideas.  Thus, all writing is a melding of both personal expression and conventions and, consequently, inherently bound within a contradiction between, in Benjamin's words, "sacred standing and profane comprehensibility."[17] In the Trauerspiel, the antinomies appear in the form of flowery typography and the highly charged metaphors of the writing, and through the cold conventions of the written language and the richness of the meaning associated with it.
For the purpose of this paper, I would like to use an analogous form of the plastic antinomies of the allegorical.  I would argue that just as the written word must embody the contradiction of convention and expression, so too must artistic medium. If "plastic" is redefined in this way, then Joseph Beuys's aesthetics can also be said to recognize the plastic antinomies of the allegorical in his theory of the anti-image, or gegenbild, in which he uses grey or colorless materials such as felt and lard in order to invoke a flurry of colorful associations.  Indeed, the overwhelming and ultimately incomprehensible number of associations that spring forth from Beuys's sculpture come to define Beuys's notion of beauty in a way that directly parallels Walter Benjamin's "allegorical sublime."
Given the intense and overpowering amount of meaning that can arise from even a single Beuysian object, I would like to focus on one installation by Joseph Beuys, Das Kapital Raum 1970-1977 (fig. 1), installed by the artist in its final manifestation in Die Hallen für neue Kunst in Schaffhausen in 1984.  Admittedly, Das Kapital Raum is one of Beuys's most complicated installations and defies comprehensive description.  However, it in many ways encapsulates Beuys's aesthetic practices, and so it will be useful in the context of a discussion about allegory.
In order to begin to enumerate some of the meanings alluded to in the room, we must first take stock of the objects that it contains:
1 Bösendorfer grand piano with 2 keys blackened, 2 film projectors without film, 1 free-standing projection screen, 1 microphone, 2 tape recorders without tape, 1 amplification system, 2 speakers, 1 wooden collapsible ladder, 1 silver plate with gelatin, 1 switchblade, 1 spear, 2 wooden planks, 1 Ax, 2 milk glasses, 1 wooden staff, 1 wash basin with 2 pocket lights and 1 sheet inside, 1 watering can, 1 enamel bowl with 1 bar of soap, 2 handtowels, 9 rocks, 10 blackboards on the ground, 4 blackboards propped against the wall, and 36 blackboards hanging on the wall.[18]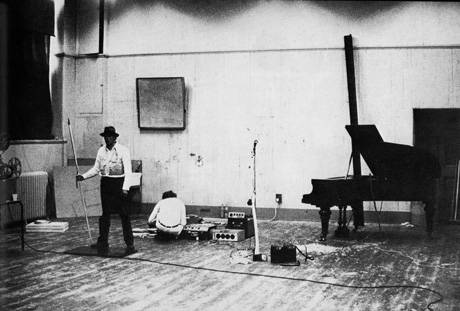 The objects in the room relate to a series of "actions" or performances presented by Beuys between the years 1970 and 1977. The largest object in the room, the piano, was often used by Beuys in Fluxus actions for its musical and symbolic function.[19] Given its placement relative to the other objects in the room, however, in this instance it most likely refers to the action Celtic (Kinloch Rannoch), Scottish Symphony, 26-30 August 1970 in Edinburgh, which included the piano, film projectors, tape recorders, amplification system, ladder, plate, gelatin, ax, blackboard, milk glasses, staff, and spear.[20] The Scottish Symphony objects along with the watering can, wash basin, soap, water, and flashlights were used in the action Celtic + ~~~~ that took place on 6 April 1971 in Basel.[21] The blackboards which are scattered across the walls and floor are a compendium of images and diagrams that Beuys often used to explain his ideas during his lectures, particularly in Documenta 5 and 6, and were originally assembled for the installation 31 Blackboards on Gold in 1977.[22]
There is a resounding dearth of color in the room.  Almost all of the objects are various shades of grey, black, white, or even clear, with the exception of the light brown wood of the ladder, ax handle, tape recorders, and staff, and the blue-grey of the film projector reels.  The lack of color is not unique to this room and is a trope throughout Beuys's oeuvre.  When asked why he worked in grey during an interview with Jörg Schellmann and Bernd Klüser, Beuys responded in saying, "Nobody bothers to ask whether I might not be more interested in evoking a very colorful world as an anti-image inside people with the help of this element, felt."[23] Beuys's statement echoes Benjamin's description of the allegorist's use of "cold, facile technique" to evoke eruptive interpretation.  However, whereas Benjamin sees the plastic antinomies arising from the nature of written communication, Beuys traces their origins to the contradictions inherent in perception itself as well as in the human ability to comprehend sensations.
Appropriately then, Beuys was concerned with the physical properties of objects as well as the ideas that they evoke. As Beuys explains, "There are two different concepts in my sculptural theory: sculpture and plastic [Sculptur und Plastik].  Sculpture would correspond to the German word Bildhauerei and plastic would correspond to organic images from inside."[24] In other words, Beuys is interested in both the reality of ideas contained in the maze of evocations within the mind and the reality of the physical world experienced through the five senses.  Most importantly, Beuys is interested in how these realities are both equally part of our human experience.  As our bodies, which are themselves a combination of physical and mental existence, move through the world, our senses translate impressions from the external world into thought. We are hardwired, so to speak, to attach ideas to stimulus from the outside world.[25] In his words, "all things take on form through thought."[26] Thus, it is in the connection of idea to object that Beuys finds the truth and meaning of the art he creates.
Returning to Beuys's theory of the anti-image, it is through the natural processes of the perception that Beuys intends to evoke "a very colorful world as an anti-image inside people."[27] He continues in the same interview to say, "One can only create after-images or anti-images by not doing something which is already there but by doing something which exists as an anti-image– always in an anti-image process."[28] Beuys's alignment of the anti-image process with that of an after-image is important because it reveals a polysemic use of the word "colorful" to mean literally colorful, as in the after-image that appears before the eyes after staring at a bright color, and metaphorically colorful, as in the exciting and vivid ideas that might arise from seeing an intriguing object.  Thus, in his mention of the after-image, Beuys recognizes that oppositions occur as part of the nature of sight.
Contradictions also arise as the mind attempts to comprehend the object before it by contexualizing the information received from sensations within categorical systems formed from language and experience.[29] Assuming that we can never know the Kantian thing-in-itself, objects that we see out in the world are actually a combination of the impression that the object has made on our mind via the senses and the concepts that we have applied to the object in order to understand it.  For instance, if you see a flat surface with four legs, you recognize that it is a table by ascertaining whether it possesses the necessary and sufficient characteristics to constitute a "table."
Once the object has been recognized, a potentially infinite number of meanings can be given to it as the table is recontextualized again and again within various spheres of association.  For instance, a table might be associated with Christ and the meal that he served at the Last Supper, or with the table on which Caravaggio's Card Players place their hands, or with the table that your family gathered around for dinner as a child.  The fact that an object is necessarily understood relative to other objects and ideas forms the basis for Joseph Beuys's theory of the anti-image.  Just as an after-image shows the contrasting colors of an original image, an anti-image is the inevitable, and in this case, intended reverse consequences of an original image, such as when the cool colors of Beuys's grey felt provoke the association of warmth, chaos, and will according to Beuys's Theory of Sculpture.
The profusion of meaning in Beuys's process relates specifically to Walter Benjamin's "allegorical sublime," as it is described in The Origin of German Tragic Drama.  As was the case when examining the plastic antinomies, Beuys process can be clarified by looking at a single object.  In this case, I would like to look at the spear propped against the right-hand wall of Das Kapital Raum.  As you come into the gallery at Schaffhausen from the right and turn to your right, the spear rests against the wall on your right.  Once the object is recognized as a spear based on its size and shape, more distant associations of the spear may begin to crop up.
For instance, it may be remembered that, according to apocryphal Christian texts, the lance of Loginus pierced the side of Christ as he was crucified.  The blood that dripped from the wound was caught by Joseph of Arimathea in the chalice that was used at the Last Supper, which upon catching Christ's blood that became the Holy Grail.  The spear and blood are connected not only in Christian stories but also in Norse mythology.  The supreme god of Norse mythology, Odin, possessed a magical spear, Gungnir, which never missed its mark and always returned to the hand.  Odin eventually hung himself from the tree Yggdrasil, while pierced by Gungnir, in order to acquire greater knowledge.  The Norse legend and Christian tale were each in turn made into operas by Richard Wagner and, thus, were interpreted and adopted by German culture.  In his opera Parsival, Wagner tells the story of the lance of Loginus as the spear of destiny, whose owner may achieve ultimate power.  The spear of power comes up again in Wagner's works, this time in the Ring Cycle, where Wotan, in his quest for ultimate power, cuts a spear from the World Ash Tree that then becomes the embodiment of his power.  The legend became historical reality in the mid-20th century when Adolph Hitler literally sought the mythical spear of power for himself.
Lest we should think that any of these interpretations of the spear are unintended or coincidental, Beuys has left clues suggesting allegorical meanings for the spear.  The dates 1970-1977 in the title of Das Kapital Raum lead us to a series of actions that he performed in the 70s.  At the conclusion to one of these actions Celtic (Kinloch Rannoch) Scottish Symphony and in the middle of Celtic + ~~~~, Beuys stood at length with a spear in his right hand above a blackboard lying on the floor just at his feet.  In Celtic + ~~~~, this board had a drawing of a grail on it.  Within the context of the drawing of the grail, which also appears on the floor in the back of Das Kapital Raum, and the context of the geographic location of Celtic (Kinloch Rannoch) Scottish Symphony in Scotland, Beuys asks his viewers to meditate on the spear in relation to the Celtic legend of the Holy Grail.  Beuys was also careful to mention his interest in Norse mythology in various interviews and lectures, and he is perhaps using his national identity as a German to recall the spear of power in relation to Wagner's operas and Hitler's ambitions.  However, each one of these contexts is remote and not absolute.  Yet, each interpretation of the spear points toward an allegorical meaning of the spear as the danger of absolute power.
Beuys openly admitted to consciously determining the connections that viewers might make with his objects.  He claimed that as part of his creative process he would allow his instinct to guide him to objects with the potential to be richly interpreted.  When speaking the preparation for his action Celtic (Kinloch Rannoch) Scottish Symphony, he said:
I looked around the room and began to touch everything a little and to develop the appropriate symbols and to form a time plan. . . The place was important. . . I put out my antennae and immediately received impressions.  Immediately.  Impressions that I had been carrying around inside me for a long time: Scotland, King Arthur's Round Table, the story of the Holy Grail.[30]
Beuys even developed a system to organize his determined meanings according to a dialectic of two poles, chaos and order.  He called the dialectic his Theory of Sculpture, and in it he outlines the interconnection between materials, ideas, and sensations.  Here, chaos and heat are aligned with lard, and order and cold are associated with felt.  So, it seems that by "instinct" Beuys means a sense by which he would seek out the materials best suited for inspiring a controlled avalanche of interpretations.  In this sense, Beuys's instinct can be said to be an allegorical sensibility and, as his Theory of Sculpture shows, this sensibility forms the basis of his sculpture making process.
Walter Benjamin would characterize the eruption of meaning cultivated by Beuys as the allegorical sublime:
Just as it [allegory] established itself in every field of spiritual activity . . . so is the stock of its visual requisites unlimited.  With every idea, the moment of expression coincides with a veritable eruption of images, which gives rise to a chaotic mass of metaphors.  This is how the sublime is presented in this style.[31]
Thus, for Beuys and Benjamin, allegory came to redefine beauty from a classical, symbolic perfection to the overwhelming, transcendent greatness of the sublime.  In reference to his multiple Everess,  Beuys said that it was the many iconographical meanings of the mountains, snow, and water that led him to use the bottles and discover their beauty:
The object is actually only beautiful due to these facts [of multiple meanings].  Otherwise, what have these bottles got?  You don't even have to be conscious of it, but you can see it . . . yes, it's quite beautiful.  You simply say it is quite beautiful.[32]
Beuys learned to cultivate the beauty of the allegorical sublime as a result of various discoveries that he made within his art.  As Matthew Rohn has noted, Beuys began by making art such as Fettecken and Gaskeller that worked as icons to invoke the artist's presence.[33] Rohn observes that Beuys then slowly began to acknowledge the relationship between objects, and began to link them together in a constellation.[34] However, I would like to suggest that Joseph Beuys did not merely connect objects within overdetermined meanings.  He actually encouraged the layering of meanings and objects, to include gradually more and more objects and more clues for their interpretation. Charles Haxthausen also notes the growing complexity of Beuys's installation as it parallels the increasing social interests of his sculptures.[35]
Das Kapital Raum 1970-77 represents one of Beuys's most complex installations and to understand the Beuysian beauty contained within is difficult to say the least.  The search for meaning is engrossing and never exhaustive.  Even just the spear lying against the wall can present a frustrating experience for the viewer.  There is no one context in which to find the meaning for the object.  Without a definitive frame, the mind is forced to wander and scramble for connections and interpretations.
However, the confusion that a viewer experiences when looking at a Beuysian object such as the spear is equally as important to Beuys as its allegorical meanings.  The uncomfortable encounter is a moment of dissonance when the viewer's assumptions about the autonomous nature of art come into conflict with their need to make sense of the object.  The confusion in the confrontation is a friction that can spark personal change as the viewer is forced to readjust their own concepts of art to allow them to try to make sense of the object, and there again they are forced to readjust their assumption that the only meaning is to be found in allegorical interpretation.[36] The change that can from conflicting needs within the individual is the first step in what Joseph Beuys calls his "expanded concept of art."  Beuys's grand ambition for his art was to change the way people saw the world in order to implement positive change on a societal scale.
In his anti-image process, Joseph Beuys seemingly embraces the plastic antinomies of the allegory whereby he uses cold, colorless materials in order to provoke a range colorful associations in the mind of the viewer.  In the flurry of ideas inspired by his objects, Beuys finds beauty, following Benjamin's description of the allegorical sublime.  However, unlike Benjamin, who envisions a perpetual dialectic between the medium and interpretation of allegory, Beuys finds their paradoxical synthesis in the expanded concept of art.[37] For although convention and expression might always be at odds, the dissonance that they create contains the potential for creativity that can communicate and cause other people to change their concepts.
Which brings us to another set of allegorical antinomies described by Benjamin, the formal antinomies found in the dialectic of convention and expression.  The formal dialectic describes the form which the plastic words take in the allegorical expression, i.e. the style of the prose and syntax.  I believe that this written style finds its artistic correlate in the process, composition, and methodology of the artist.  As Benjamin observes, "The allegory of the seventeenth century is not a convention of expression, but an expression of convention."[38] Thus, Baroque allegory makes the reader more aware of the convention that is necessary for the comprehension of another's expression.  The Baroque understood that true expression of subjective experience was not possible within the authority of systematic arrangement required for communication.
Here again, Joseph Beuys can be shown to have an awareness of the formal antinomies of convention and expression and to be actively seeking to express the convention of the logical systems necessary to communicate his ideas.  The revelation of rules and customs is also a primary characteristic of Post-modern art's use of allegory, according to Craig Owens.  In his essay, Owens points out how Post-modern art, in fitting with the characteristics of allegory, seeks to reveal the systems through which the mind attaches meaning to an object, namely logic and language.  He says, "Allegory concerns itself, then, with the projection–either spacial or temporal or both–of structure as sequence; the result, however, is not dynamic, but static, ritualistic, repetitive."[39]
Like a post-modern artist, Joseph Beuys creates a spaciotemporal projection of logical systems in his sculptures and installations as well as the rituals of his actions.  One of the stated goals of his art was to bring logical systems to our awareness, specifically those at play in visual analysis.[40] The unveiling of visual analysis is evident in many of Beuys's works including Das Kapital Raum.  As Hans Dieter Huber points out in his article "The Art Work as a System and Its Aesthetic Experience," the room is subdivided according to ways in which information may be presented to us.[41] The film projectors can be said to represent visual information; the tape recorders and microphone convey acoustic information; and the blackboards contain linguistic information.  Through the inclusion of these objects, Beuys outlines the perceptual process by which one can begin to find meaning in his art.
Even looking specifically at the blackboards in Das Kapital Raum, they not only convey Joseph Beuys's personal constellation of ideas.  They also serve as expressions of convention themselves, as they contain both Peircian symbol and index.  The blackboards are indexes of Joseph Beuys's presence at one time in front of the board and the motion of his hand across the board.  The content of the writings on the board tell us that the index is also an expression of Beuys's thoughts and feeling, as his ideas are often conveyed through the use of symbols sketched in patterns or diagrams.  One blackboard shows arrows for movement or a circle with radiating lines for a sun.  As Charles S. Peirce shows in his essay "Logic as Semiotic: The Theory of Signs," symbols rely on a system of rules to determine their interpretant.[42] By way of the index, which mark the presence of the artist and communicates information, Beuys expresses himself through the convention of symbols.
As Huber has shown, Das Kapital Raum is also a microcosm for the process of how we as viewers come to understand Beuys's art.  First, we encounter an object.  Then, we look for a context in order to make sense of the object.  In our quest to find meaning, we connect our own concepts to the object and find relationships between multiple objects.  Then, through this web of interrelations, we eventually gather enough layers of meaning to begin to make sense of Joseph Beuys's own ideas, interpretations, and objects.  The interaction of the viewers concepts with those of Beuys through his objects is manifested spatially in Das Kapital Raum, where a viewer who is standing in front of the room is able to see the blackboards that describe Beuys's ideas through the collection of objects in the front of the room.
However, just as these objects can be seen as the means to Beuys's concepts, they also are barriers to a full communion with Beuys's subjective experience.  Because of the restraints of convention in logic, language, and symbolism necessary to communicate, the comprehension of his ideas is incomplete and misdirected.  As Beuys himself lamenteds:
Art expresses the realm of experience and goes far beyond the comprehensibility of logical content. . . Mistakes occur during the struggle, not just in my case but quite generally.  These then have to be redirected, they have to be caught.  To this extent it is a permanent struggle and I believe that something of this struggle situation is contained in the objects.[43]
Therefore, although Beuys believes that creation overcomes the contradiction between convention and expression, he also acknowledges that the artist and viewer themselves never fully escape the regulations necessary to communicate.  We remain trapped in our subjectivity.
But, because it is impossible to communicate an expression completely, if an artist is able to render his quandary more obvious, then they can thereby incorporate their restrictions into their expression, and the fragmented misunderstandings become expressions in themselves.  As Donald Kuspit has noted, Joseph Beuys excels at communicating his struggle, and his strain is especially clear in his performances which are "deliberately and brilliantly overdetermined, Beuys piling on meaning upon meaning in a kind of self-inquisitorial auto-da-fe."[44] Beuys's action How to Explain Objects to a Dead Hare is a particularly poignant expression of the artist's isolation within their own subjectivity and their need to express themselves.  On 26 November 1965, Joseph Beuys sat in the window of the Schmela Gallery in Düsseldorf, his head covered in honey and gold leaf, and rocked a dead hare in his arms (fig. 5).[45] He walked the hare through the gallery and talked to it as he brought its paw up to each picture.  Beuys interprets this action in saying, "I explained them [the pictures] to him because I do not really like explaining them to people.  There is a shadow of truth in this.  A hare comprehends more than many human being with their stubborn rationalism."[46]
Considering Beuys's overt frustration at the miscommunication that occurs in art, perhaps he consciously chose an allegorical mode of creation in order to emphasize his personal experience.  In that case, Beuys's use of allegory is only a means to an end.  For, as Beuys suggests in the quote above, he still maintains hope for true comprehension and communication in the instinct of the hare.  In the conflict between reason and instinct as techniques for comprehension, Beuys sides unquestionably with instinct, an inborn impulse where he believes a truth can be found that transcends contradiction.  According to Beuys, instinct lies buried in the subjective experience of the viewer and it is this mode of comprehension that the artist must touch if they wish to express something that defies the conventions of logic and language.  As Beuys says:
They [creations] are not merely to be evaluated in external forms though.  They must be assessed within human beings themselves, and then become visible there.  We suddenly then know that we are spiritual beings– and that what is visible within ourselves, becomes a source of images and invested with its own inner higher mathematics, also endows us with the ability to perceive the Christ-power.[47]
The "Christ-power" is a truth above and beyond the connotations evoked by allegory.  Yet, it can only be found once the viewer can burrow through the sublime explosion of meaning down to the core that connects with their instinct rather than their reason.  Through this process, Beuys hopes that the viewer can seize the nugget of meaning deep within an object, where it lies almost forgotten by the logical contexts under which it is normally understood.
In this potential transcendent meaning of an object, we have stumbled on the third and final pairing of allegorical antinomies that define the everyday world as "both elevated and devalued."[48] According to Walter Benjamin, the world is wide open for the allegorist to find content for his expression.  Anything can be chosen for interpretation, and what is chosen can be interpreted in any way.  As Benjamin says of the allegorist's creation, "Any person, any object, any relationship can mean absolutely anything else."[49] Antinomies result from this dictum because any object used by the allegorist can be elevated by the transcendent meaning attached to it.  According to Benjamin, the world is elevated specifically through the act of naming, which grants objects the power to point to something else. However, because there is no discrimination among objects to be interpreted, the world surrounding the allegorist is debased as unworthy of judgement from detailed consideration.
As has been previously discussed, Joseph Beuys sought to reveal a truth that transcends the contradictions of allegory, unhampered by the conventions that would normally constrain expression.  But, Benjamin means something different by transcendence when he discusses that quality in the context of the third set of antinomies.  He says that all of things that are used to signify in allegory are imbued with the power to point to something else, which "raises them onto a higher plane, and which can, indeed, sanctify them."[50] The more successful an allegory is in making reference, the more the object itself, as a signifier, disappears and gives way to the referent.  But, in the act of choosing willy nilly among objects for allegory, the allegorist is simultaneously denying the sacred, conceptual, signifying capability of their object by making its standing among other objects inconsequential, as one among many in the banal world.
How does Joseph Beuys negotiate this set of antinomies?  Well, he seems to be acting as a Benjaminian allegorist in this case by recognizing the importance of naming in the creation of meaning and by relishing the freedom to choose any object for his creation.  In fact, Beuys sees language as the reason why any object is appropriate for sculpture because what a sculptor is actually "sculpting" is thought, not matter.  For, "The use of language makes everything a subject for sculpture,  [because] all things take on form through thought."[51] Once a word has sparked a thought-form in the mind, the thought-form is infused with imagination and feeling by virtue of the fact that logic, instinct, and every part of person can respond to an object.  In the end, according to Beuys, it is the more emotive and subjective qualities that determine the intensity and quality of the thought-form, which in turn determines the potency of the named object that inspired it.  Beuys describes this process by stating:
The expanded concept of art is not a theory but a way of proceeding which says that the inner eye is much more crucial than the external images that develop anyway.  The precondition for good outward pictures, which can also be hung in museums, is that the inner image, the thought-form, the structure of thought, imagination and feeling, has the quality required of a corresponding picture.  I therefore shift the picture back to its place of origin.  I go back to the sentence: In the beginning was the word.  The word is a form.[52]
Beuys also states that he chooses any object whatsoever for his sculptures, actions, and installations.  He admitted in relation to his multiples that "I think that a multiple can be chosen quite arbitrarily if one sees the vehicle quality."[53] But, I do not think that we can claim that for Beuys "detail is of no great importance," as Benjamin described an allegorist.[54] I am reminded here of 1 Corinthians 10:23 where Paul writes, "'Everything is permissible'– but not everything is beneficial.  'Everything is permissible'– but not everything is constructive."  Just as Paul is suggesting that moral truth of altruism should guide one's free will, so I would argue does Beuys insist that the true nature of materials should guide the artist's free creation of meaning.
Beuys believed that there is a fundamental essence behind appearance can be recognized once the layers of meaning attached to an object have been sifted through.[55] Beuys says, "In the unpreconceived perception of phenomena lies the question of the original idea which is fundamental to the appearance."[56] For Beuys, ritual is the key to revealing the essence of things.[57] To grant a ritual the power to reveal the true nature of objects is a radical departure from Craig Owens description of ritual as a static and repetitive quality of Post-modern art that expresses the fragmentary nature of meaning.  Instead, Beuys sees ritual as a creative process through which the participants are able to work through allegory and in the end resolve its contradictions by comprehending the power of the essential core of knowledge behind that which is visible.
Christian transubstantiation exemplifies this sort of ritual.[58] Joseph Beuys admits to adopting of the miraculous ritual.  He says, "Where it is said: this is bread only by outer appearance, in reality it is Christ.  This, then, is transubstantiation of matter.  Such things also play a role with felt or fat."[59] During transubstantiation, the reality of the substance is shifted from a context where it is understood as bread to a context where it is understood as Christ.  The shift of reality is so complete that the substance is not only understood as Christ.  It actually is Christ.  Therefore, an ultimate context is revealed for determining the meaning of the substance.
Walter Benjamin strongly disapproves of the appropriation of the Christian doctrine of transubstantiation by visual aesthetics.  In his mind, an artist's aspirations to transubstantial powers is a warped form of romantic symbolism whereby the signifier merges with and is wholly subsumed by the signified.  Benjamin says of transubstantiation:
The unity of the material and the transcendental object, which constitutes the paradox of the theological symbol, is distorted into a relationship between appearance and essence.  The introduction of this distorted conception of the symbol into aesthetics was a romantic and destructive extravagance which preceded the desolation of modern art criticism.[60]
Joseph Beuys's adoption of transubstantiation is his most significant defiance of allegorical methodology according to Benjamin.  Beuys's rejection of allegory at this moment for the completeness of the symbol where appearance and essence are merged begs the question "Why would Beuys choose to adopt an allegorical mode of expression only to subvert its inevitable divisions?"  In fact, it seems that Beuys adopted allegory in order to reveal the Truth (capital T).  The truth is that each of us is indeed trapped inside of our subjective experience.  It is the artist is unable to fully express himself as he is confined by the conventions of speech, writing, and iconography necessary for communication.  But, they can express the truth of this condition by making obvious the logical systems that define their expression.  The viewer is likewise trapped by the very systems that hamper the artist's expression.  However, the artist can express the truth of the viewer's subjective experience by exaggerating and exasperating their intellectual search for meaning in the allegorical sublime.  Allegory, thus, serves to express the truth of the artist's and viewer's reality.
Nevertheless, I believe that Beuys would maintain that because, as Benjamin ascertains, allegory is governed by dichotomy and antinomies, it is incapable of expressing the truth that resides in the essence of substances and objects.  Therefore, although an allegorical mode of expression allowed Beuys to have complete freedom in choosing objects for his art and created dissonances that could affect change on a personal and societal level, allegory had to be rejected in order to recognize the reality of the objects in his creations.  At the end of the day, Beuysian objects are not only vehicles to a constellation of interpretation.  They are substances onto themselves subtly dictating the terms under which they are understood.  The purpose of Beuys's art, then, is not to provide intellectual stimulation as with allegory.  His art seeks to express the truth of our experience.  As Beuys himself says, " Art is not there to provide knowledge in direct ways.  It produces deepened perceptions of experience."[61]
In conclusion, I would like to clarify some of the implications of allegory and Beuys's aesthetic, as well as revisit some of the themes in this paper that have not yet been fully addressed.  To begin with, I fear that my introduction may have distorted the thrust of Benjamin Buchloh's critique of Joseph Beuys.  Buchloh's derision of Beuys's use of allegory is actually ancillary to his main argument against Beuys, which is that his art purports to present an ahistoric, uncontingent truth that reveals an "obliviousness toward the specific conditions that determine the reality of an individual's being and work in historical time."[62] Firstly, Buchloh believes that this sort of meaning is non-existent, and therefore any pretensions to its discovery are patently false.  Secondly, Buchloh maintains that Beuys is creating a grand myth that reinstated a sense of German national self.[63] Beneath the entirety of Buchloh's criticism of Beuys lies his negative opinion of nationalism in general and his specific repulsion that a German would dare to adopt an assertive ideology not even a generation after "one of the most cruel and devastating forms of collective political madness that history has shown."[64] In other words, Buchloh believes that Beuys's art is not merely vapid, but that Beuys's erasure of any hint of the historical contingency of his art is in fact a sinister act intended to obscure any potential culpability or opposition.
It is interesting that Buchloh picks up on an ahistorical quality to Joseph Beuys's art, because, as I have been writing this paper, I have found it impossible to avoid terms that invoke an almost Hegelian understanding of history.  At the point where Beuys deviates from Benjamin's antinomies, could this be a moment of synthesis intended to resolve the thesis and antithesis in Benjamin's dialectic?  By employing allegory at certain points, is Beuys using its potential to bring the past to life in the present, as Benjamin suggests?  I would like to claim that both of these possibilities might answer Buchloh's accusations.
I also believe that Beuys's use of allegory does place him historically.  If Craig Owens's theory is correct and allegory is the defining characteristic of Post-modernism, then the fact that Beuys saw the relevance of allegory but still believed in the transformative power of art does place him correctly between Modernism and Post-modernism.  Beuys's belief that truth can be conveyed is, therefore, a historical position that recognizes the fragmentary nature of our world but sees in art the potential to be productive and create positive change amidst the ruins.  Arthur Danto claims that "the art [of Post-modernism] is an allegory for our age" and is therefore able to express the truth of our existence.[65] In his careful use and dissolution of allegory, Joseph Beuys accomplishes just this, an art that connects with the viewer by expressing the reality of his historically contingent existence.
Bibliography
Adriani, Götz, Winfried Konnertz, and Karin Thomas. Joseph Beuys: Life and Works. Translated by Patricia Lech. Woodbury: Barron's, 1979.
Benjamin, Walter. The Origin of German Tragic Drama. Translated by John Osborne. London: Verso, 1977.
Beuys, Joseph. "Talking about one's own country: germany", speech given in 1985 at the Muenchner Kammerspiele  in In Memoriam Joseph Beuys: Obituaries, Essays, and Speeches, Bonn: Inter Nationes, 1986.  Translation: Timothy Nevill. Originally published in Frankfurter Allgemeine Zeitung, 1 Feb 1986.
Danto, Arthur. "Whatever Happened to Beauty?" in Embodied Meanings. New York: Farrar, Straus, Giroux, 1994. Originally in the Nation, March 30 1992.
De Domizio Durini, Lucrezia. The Felt Hat: Joseph Beuys, A Life Told. Rome: Carte Segrete, 1992.
Frye, Northrop. Anatomy of Criticism. New York: Atheneum, 1969.
Haxthausen, Charles W. "Ars Combinatoria: Thoughts on the Installations of Joseph Beuys," presented at the Menil Collection, Houston, 8 November 2004.
Huber, Hans Dieter. "The Art Work as a System and Its Aesthetic Experience: Remarks on the Art of Joseph Beuys." Edited by Thorsten Scheerer and Klaus Dieter Schöenfeldt. Published by Athena on http://home.pages.de/~athena/ in April 1997. E-text registration: ath-ep974/hub.
Kant, Immanuel. Critique of Pure Reason. Translated and edited by Paul Guyer and Allen Wood. Cambridge: Cambridge University Press, 1998.
Kuspit, Donald. "Joseph Beuys' Mission" in Warhol/Beuys/Polke. Milwaukee: Burton and Mayer, 1987.
Mennekes, Friedhelm. "On the Cosmological Christology in the Oeuvre of Joseph Beuys" in Beuys on Christ. Stuttgart: Verl. Kath. Biblewerk, 1992.
Meyer, Ursula. "How to Explain Objects to a Dead Hare," Artnews, January 1970.
McCole, John. Walter Benjamin and the Antinomies of Tradition. Doctoral thesis in History from Boston University, 1988.
Owens, Craig. "The Allegorical Impulse: Toward a Theory of Postmodernism" in Beyond Recognition: Representation, Power, and Culture, edited by Scott Bryson, Barbara Kruger, Lynne Tillman, and Jane Weinstock. Berkeley: University of California Press.
Phillips, Christopher. "Back to Beuys (exhibits of artist Joseph Beuys's work at the Museum of Modern Art and Dia Art Center; New York, New York," Art in America, vol.81 no.9, September 1993.
Peirce, Charles S. "Logic as Semiotic: The Theory of Signs" in Semiotics: An Introductory Anthology, edited by Robert E. Innis. Bloomington: Indiana University Press, ????.
Rohn, Matthew Lee. "A Brief Look at Beuys' Early Development," in Some Artists, for Example Joseph Beuys: Multiples, Drawings, Videotapes May 15-June 15 University of California Riverside," Riverside: University of California, 1975.
Rosenthal, Mark. "Joseph Beuys: Staging Sculpture" in Joseph Beuys Actions, Vitrines, and Environments, edited by Susan Braeuer, Claire Elliot, and Jane Watkins. Houston: Menil Foundation, 2004.
Schellmann, Jörg and Bernd Klüser. "Questions to Joseph Beuys" in Joseph Beuys, The Multiples. Cambridge: Busch-Reisinger Museum, 1997.
Verspohl, Franz-Joachim. Joseph Beuys: Das Kapital Raum. Frankfurt am Main: Fischer, 1987.
---
[1] Christopher Phillips points out how Buchloh's article was incredibly influential in the U.S., where it dissuaded many curators from purchasing Beuys's art for their collections, "Back," 88.
[2] McCole, Benjamin, 234.
[3] Benjamin, Origin, 162
[4] McCole, Benjamin, 234.
[5] Ibid.
[6] Benjamin, Origin, 160.
[7] Ibid., 165-6.
[8] Ibid., 161.
[9] McCole, Benjamin, 233.
[10] Ibid., 54.
[11] Owens, "Impulse," 85.
[12] I cannot resist mentioning that I was also born in 1980. Coincidence?
[13] Buchloh, "Beuys," 209.
[14] Benjamin, Origin, 160.
[15] Ibid., 162.
[16] Ibid., 175.
[17] Benjamin, Origins, 175.
[18] Adapted from the list by Theodora Vischer in Joseph Beuys: Die Enheit des Werkes, 286.
[19] Rosenthal, "Staging," 37.
[20] This action is summarized in Joseph Beuys: Life and Works, 202-205.
[21] Ibid., 212-219.
[22] Verspohl, Das Kapital Raum, 29.
[23] Schellmann, "Questions," 11.
[24] Ibid., 283.
[25] My acknowledgment of the interdependence of thought and object is reminiscent of Kanitian metaphysics as outlined in Kant's Critique of Pure Reason.  In that work, Kant says that "Thoughts without content are empty, and intuitions without concepts are blind."(explain intuitions)
[26] De Dominizo Durini, Felt Hat, 26.
[27] Schellmann, "Questions," 11.
[28] Ibid.
[29] The language that I am using to describe cognition comes from Immanuel Kant's transcendental deduction of pure concepts of the understanding, Critique, 264.  I have chosen to frame cognition in Kant because I think that Kant's ideas eloquently express the isolation of subjective experience and, thus, are well suited to describe Beuys's ideas.
[30] Adriani, Life and Works, 203.
[31] Benjamin, Origin, 172-3.
[32] Schellmann, "Questions," 12.
[33] Rohn, "Look," 17.
[34] Ibid., 18-20.  For Rohn, the objects became transmitters and receivers of meaning with an "archaelogical presence," suggesting Kubler's bundles of signals.
[35] Haxthausen, "Ars Combinatoria," 15-17.
[36] In his call to action, Beuys again exemplifies a characteristic of allegory according to Craig Owens, who said that "It should be remembered that allegories are frequently exhortative, addressed to the reader in an attempt to manipulate him or to modify his behavior."
[37] The echoes of Hegel that appear here will be addressed in my conclusion.
[38] Benjamin, Origin, 175.
[39] Owens, "Impulse," 57.
[40] Adriani, Life and Works, 71.
[41] Huber, "Art Work," chapter: "The Capital Space 1970-1977," paragraph 6.
[42] Peirce, "Logic," 16.
[43] Schellmann, "Questions," 20.
[44] Kuspit, "Mission," 56.
[45] Donald Kuspit also points out the cultural, mythological, and metaphorical allegories of the hare, Ibid., 57.
[46] Meyer, "How," 57.
[47] Mennekes, "Christology," 34.
[48] Benjamin, Origin, 175.
[49] Benjamin, Origin, 175.
[50] Benjamin, Origins, 175.
[51] De Domizio Durini, Felt Hat, 26.
[52](34– Mennekes) interview where?
[53] Schellmann, "Questions," 11.
[54] Benjamin, Origins, 175.
[55] Schellmann, "Questions," 24.
[56] Schellmann, "Questions," 24.
[57] Matthew Rohn observes that Beuys learned to use ritual through experimentation and that the movements of ritual are implied even with Beuys's stationary objects, as they are "used objects" for cooking, hunting, music, etc., "Look," 18-20.
[58] Friedhelm Mennekes presents a strong argument for the importance of transubstantiation to Joseph Beuys in his essay, "On the Cosmological Christology in the Oeuvre of Joseph Beuys," 97.
[59] Schellmann, "Questions," 11.
[60] Benjamin, Origin, 160.
[61] Benjamin, Origin, 20.
[62] Buchloh, "Beuys," 200.
[63] Ibid., 204.
[64] Ibid., 203.
[65] Danto, "Whatever," 257.